Cisco Digital Media Suite
Cisco Digital Media Suite is a complete enterprise multimedia solution. It has three main applications:
Cisco Digital Signs: digital signage.
Cisco Cast: digital TV.
Cisco Show and Share: webcasting and video sharing.
Cisco Digital Signs - a digital signage system that displays media on Public Displays (PDs). It can be used for displaying commercials (shopping centers, travel agencies) or important messages (airports, stations). Displayed content depends on the time, location and even directly on the receivers.
Cisco Cast - Digital television over IP – IPTV. Displays live programs according to a schedule or playlist. The user selects content with a remote control or a touchscreen. Playing video on demand is also possible.
Stages of DMS data processing:
Transmission and source signal encoding.
File and stream processing and management.
Media presentation: webcast or dedicated appliances.
D9036 Modular Encoding Platform

Advanced MPEG-4 encoder, consists of up to 6 modules.


Modular Video Codec (MVC): resolution up to 1080i and 720p, AVC or MPEG-2.
Modular Multichannel Audio (MMA): multichannel audio codec: AAC, MPEG-1 LII, AAC, Dolby Digital.
Modular Video Input (MVI): HD-SDI digital inputs.
Modular Input/Output (MIO): 2 DVB-ASI outputs, 4x Gigabit Ethernet, UDP/IP or RTP/UDP/IP.
Media Experience Engine 3500
Media processing appliance with rich transcoding capabilities.

Delivers content for Cisco Digital Signs and Cisco Cast.
Automatic video format adaptation for Cisco Show and Share.
Can cooperate with Cisco TelePresence Content Server and Cisco TelePresence Recording Server.
Media transcoding: supports AVC i AAC.
Advanced video editing.
Digital Media Player 4310G
Receives video for Digital Signs or Cast and displays it on LCDs. Managed locally (remote control) or through the Digital Media Manager.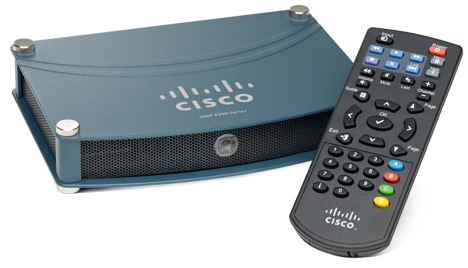 GUI including playlists, video on demand and Cisco Cast channel selection.
Screen division.
Support for 1080p HD and AVC/AAC encoding.
32 GB internal memory - local content in case of connection loss.
802.11af Power over Ethernet (12W).
Protocols: (S)FTP, HTTP(S), UDP, RTP, RTSP.
Outputs: HDMI, S-Video, USB.
LCD Cisco Professional Series 52'' displays


Controlled with buttons, remote control or Digital Media Manager.
Supports HD 1080p, 1080i and 720p resolutions.
Built-in speakers.
LCD 110 PRO 52S: 1920x1080, 2000:1 contrast, viewing angle: 178◦ /178◦
Digital Media Manager
Central application managing the whole DMS system, used by content authors, content managers and administrators. Offers management of all parts of the DMS architecture: encoders, transcoders, players and displays. Supports editing of the content delivered to Cisco Cast and Cisco Digital Signage.