1. INTRODUCTION
VMware® vSphere® is the industry-leading virtualization platform for building cloud infrastructures. It enables users to run business-critical applications with confidence and respond to business needs faster. vSphere accelerates the shift to cloud computing for existing datacenters and underpins compatible public cloud offerings, forming the foundation for the industry's only hybrid cloud model.
2. STRUCTURE
This picure presents layers and components of VMware vSphere: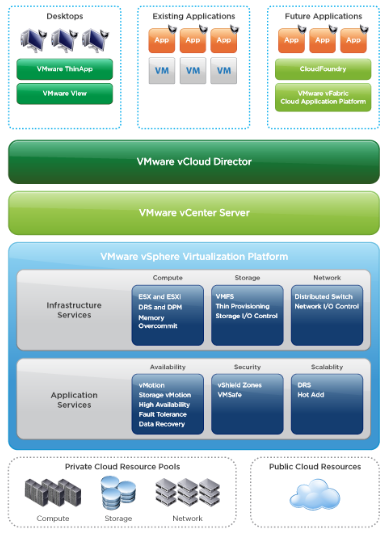 Figure 1 Structure of VMware vSphere (http://www.vmware.com/products/vsphere/overview.html)
COMPUTE:
WMware vSphere ESX and ESXi: vSphere is converging on the ESX or ESXi hypervisor architecture. ESXi—the gold standard in hypervisors — enables vSphere users to leverage a thinner architecture, a more secure footprint, and a streamlined patching and setup model.
WMware vSphere Auto Deploy: Auto Deploy is a new deployment and patching model for new vSphere hosts running the ESXi hypervisor. Deploy more vSphere hosts in minutes and update them more efficiently than ever before.
STORAGE:
VMware vSphere Storage DRS: improve management and enable more efficient use of storage resources through grouping, placement and balancing.
Profile driven storage: identify the appropriate storage to use for a given virtual machine depending on service level. The result is a streamlined approach to selecting the correct storage and ensuring its delivery.
VMware vSphere file system: leverage enhanced scalability and performance through a non-disruptive upgrade to the platform's latest clustered file system version.
VMware vSphere storage and I/O control: improve management and enforcement of service-level agreements (SLAs) through extension of limits and shares in Network File System (NFS) datastores.
VMware vSphere storage API program: take advantage of extensions to the Array Integration API that support thin provisioning. Leverage the new Storage Awareness and Discovery API to interface with arrays when using the new vSphere Storage, DRS and Profile-Driven Storage features.
NETWORK:
VMware vSphere Netwokr I/O control: new per–virtual-machine controls allow more-granular SLA enforcement.
VMware vSphere Distibuted Switch: improves visibility of virtualmachine traffic through NetFlow and enhances monitoring and troubleshooting through Switched Port Analyzer (SPAN) and Link Layer Discovery Protocol (LLDP) support.
VMware vSphere High Availability: new architecture enables superior guarantees, simplified setup and configuration, and expanded scalability.
AVAILABILITY:
VMware vSphere vMotion: migration of virtual machines over higherlatency network links is now supported.
SECURITY:
ESXi Firewall: new service-oriented and stateless firewall engine restricts access to specific services by IP address or
subnet. This is particularly useful for third-party components that require network access.
SCALABILITY:
Larger virtual machines: virtual machines can now grow four times larger than in any previous release to support even the largest applications. Virtual machines can now have up to 32 virtual CPUs and 1TB of RAM.
CORE MANAGEMENT:
VMware vSphere Web Client: access vSphere from any Web browser anywhere in the world.
VMware vCenter Server Appliance: run vCenter Server as a Linux-based virtual appliance.
3. SUMMARY
VMware vSphere allows you to:
Build your Infrastructure on the Most Trusted Virtualization Solutions.
Bring the power of cloud computing to your IT infrastructure with VMware vSphere, the next evolutionary step in IT computing and the most trusted virtualization platform available.
Build on a proven virtualization platform as the foundation for private and public clouds, using federation and standards to bridge cloud infrastructures—creating a hybrid cloud structure that can respond to your evolving business needs.
Reduce your capital and operating costs and increase control over IT infrastructures while preserving the flexibility to choose any OS, application and hardware. Let your IT staff shift their energies towards creating transformative business solutions instead of routine maintenance of hardware and software
Get more from your existing IT assets and reduce capital expenses of the datacenter by up to 60%. Significantly lower power, cooling and real estate needs and cut your energy costs by up to 80%. Available in several different editions, VMware vSphere delivers targeted benefits to small business and mid-size and enterprise business customers.
4. BIBLIOGRAPHY
http://www.vmware.com/products/vsphere/overview.html
Films:
http://www.youtube.com/watch?v=OdMDdeoJmHM
http://www.youtube.com/watch?v=fKFFhK4zrZI&playnext=1&list=PL54D66774A16DCB6F
http://www.youtube.com/watch?v=tqmahPc6rL8&feature=related
http://www.youtube.com/watch?v=MDKban2jmxU&feature=related